Review Management
What is Review Management?
The process of monitoring, analyzing, generating and reporting of online reviews across multiple review websites is what makes up review management.
Review management doesn't have to be difficult or expensive. An online presence is essential in the world today and we know that it can be difficult to get it the way you want it on your own.
It is very important to get good Google/online reviews on a regular basis. The online reviews will impact how your website performs and how the consumer will make their decisions. Review management can make your brand shine online.
Let's explore review management.
Generate Reviews
Protect your reputation online and increase customer sentiment
Review Sharing
Automatically share reviews on social media and your website
Review Monitoring
Get alerted when new reviews happen and be able to respond
No Contracts
No contract. Ever. We belive our work and performance should be enough to keep you on board.
How Does Review Management Work?
How does it make getting reviews easier?
Our online review management service puts the process of collecting reviews for your business on auto pilot. If you manually collect reviews for your business online the process would look something like this:
Manually keep track of who has and hasn't reviewed
Manually calculate how many reviews you have at each review site
Manually reach out via email to customers to ask for a review
Manually follow up to continue to encourage them to leave a positive review
Manually continue to rinse and repeat this process with each customer
Manually share new reviews to social media profiles
Manually add/swap out reviews on your website
Phew! That's a LOT of work.  Want to automate this entire process? Get started with our review management service.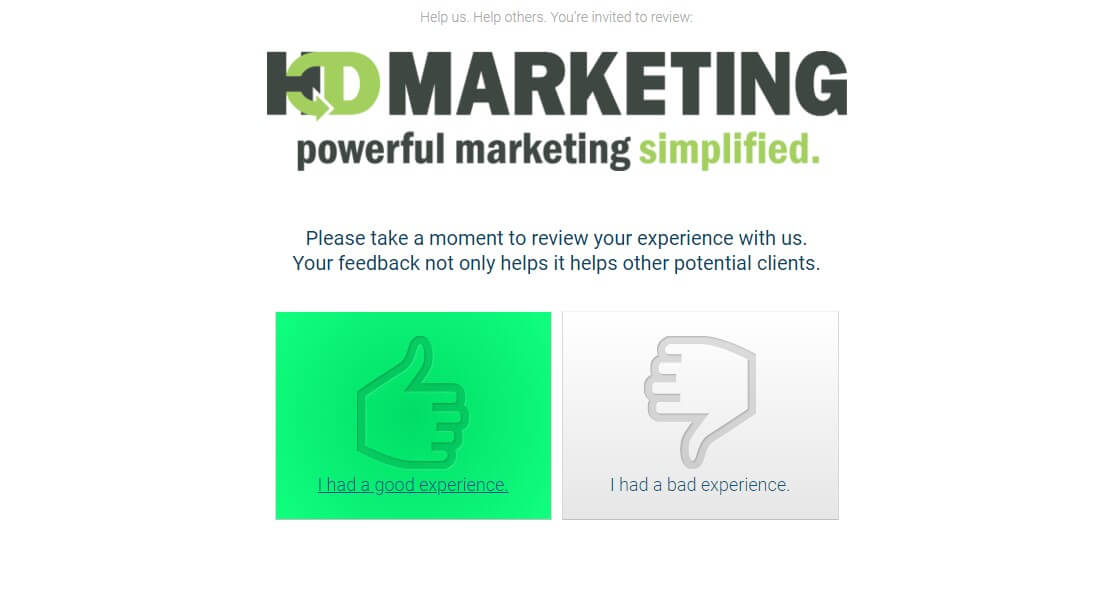 Branded Review Landing Page
Is it easy for potential reviewers?
We create a custom branded review landing page for your company with matching colors, fonts and logos. Potential reviewers are sent here from a custom email campaign we send on your behalf requesting a review.
Visitors to this page simply click the "thumbs up" or "thumbs down" buttons. If they click the thumbs up, they are automatically and directly taken to the best place for them to leave a positive review. Our system can detect if they are already logged into their Google account or Facebook account and the like.
Our system then determines where your account most needs a review and takes them there. This happens nearly instantly.
Thumbs Down
Customer support opportunity
If they click the thumbs down button, they are presented with a contact form with an option to still leave their negative review at the very bottom of the form. That form is shown here. The contact form information is emailed directly to you.
Don't be discouraged or upset that someone is not happy with your company. In many cases business owners take the wrong approach here and will lash out or berate the customer.
Use this opportunity to fine tune your operation, product or service. Learn from it and grow.
Using our review management service elevates your chances of getting positive reviews but, also can help you create better products and services.
Negative Reviews
What do you do about bad reviews?
Negative reviews aren't necessarily "bad". You can use a negative review of your comany as a customer support opportunity. Learning WHY they feel that way can allow you to learn about a way to change your product or service and show potential future customers that you care.
Potential negative reviewers are presented with a contact form (shown above) to allow them to tell you why they aren't satisfied. They are still offered the option to leave a bad review. You should respond to negative AND positive reviews in a reassuring and professional manner.
Check Your Reputation Now
Sharing Reviews
How and where can I use my reviews?
You can share your reviews on social media and place them on your website. Our system will automatically share new positive reviews to your Facebook and Twitter accounts on your behalf as they come in.
We can also show reviews on your website using a few different methods. One way is using a review rotator like you can see near the bottom of just about every page of our website.
You can see some other methods on our company reviews page. 
Review Management Reports
How do I know how my brand in performing?
Detailed monthly reports (example pictured) are included for every review management client. We detail your average overall rating, your review distribution by site, review volume, listings strength and more.
We show you all new reviews earned in the last month, where the review as left and the actual review rating left. There is also a detailed listing of each review in it's entirety.
Reviewing the monthly report can help you better understand how your brand looks, overall to potential customers across various review websites.
While it is a best practice to obtain reviews across mulitple review websites, it is not uncommon for your brand to get a large percentage of reviews on Google as they have become the standard for online reviews of businesses. If available, you should still get reviews on industry specific websites like Houzz or Wedding Wire, for instance.
You can view a comprehensive but, not complete list of the places we can collect reviews from for your company in this article on our Knowledge Base.
Local Business Listings
Local listings are like the online Yellow Pages for businesses. We will optimize your listings for accuracy, every week.
Website Design
Get a beautiful, search optimized website that will WOW your visitors and Google will LOVE and send traffic to.
Local SEO
Our Local SEO service highly targets your products and services for your geographic area.
Basic SEO
Our Basic SEO service optimizes your entire webiste. It's the foundation for success.
What our clients have said about our  Review Management Company.
No Contracts. Ever.
No matter what digital marketing services you choose from HD Marketing there is no contract to sign or agree to. We have never and never will force our valuable clients into a long term contract. We believe that our performance, support and services should stand on there own. For over a decade that has been the case.
Choose HD Marketing for all your digital marketing needs.