WordPress Website Design
Why Use WordPress?
WordPress is the most popular CMS due to it's flexibility and it's ease of customization.  With WordPress, the sky is literally the limit. From E-Commerce websites to forums and membership sites, if you can think it, WordPress can do it.
HD Marketing offers WordPress websites that are fully responsive, meaning they will look great on any device and that load lightening fast.
Fast loading websites are not only required to keep your visitors on your site (no one likes to wait for a web page to load) but, search engines are now using the speed of a website as a ranking factor.
Let's explore more about WordPress Website Design.
No Contracts
Don't be locked into a long, expensive contract for your WordPress Website.
Fast Hosting
Fast, secure Website Hosting makes Google and your website visitors happy.
Image Compression
Fast loading images reduce bounce rate and retain website visitors.
Expert Support
Our team of WordPress Website experts are here to help with any questions you have.
Wordpress Website
Features & Benefits
FAST Hosting
Full-Custom Design

Optimized Content

Optimized Images

Complete Monthly Report
Advanced Analytics

E-Commerce

Memberships

Full SEO Optimization
Full Customization
Local SEO Capable

Website Maintenance

Website Backups

Website Security
Fast, Secure WordPress Website Hosting
Does a fast and secure website help me in some way?
Having a fast and secure website is one key to online success. Google ranks websites on a number of factors and how fast your website loads is one of them. They also will rank a website using a SSL Certificate higher than a website that doesn't. We include SSL Certificates that automatically renew with every WordPress Website Design we deliver.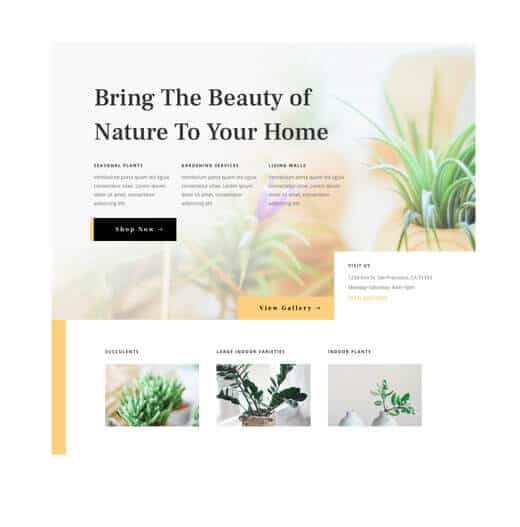 Mobile Optimized Website Design
Will my site work and look good on phones?
All of our WordPress Website Designs are mobile optimzed so they look great on any phone, tablet or computer. No matter what size screen your website being veiwed on, it will look amazing.
Website Security
We include our WordPress Website Security Service in our Website Design Service.
Website Maintenance
Website Maintenance is included will every WordPress Website Design.
Website Backups
Daily backups of your WordPress website are included with your new or redesigned website.
Additional WordPress Website Design Features
What else is included with my new website?
There is no limit to the type of content we can include on your new website. If you need to sell products on your website, we have you covered. Easy product management including shipping and inventory are included. Need to capture email address to help grow your email list, no problem. We can add a email optin form on any page of your website and tie it directly to your MailChimp or Constant Contact account.
Need the ability to have your website visitors share your website pages on social media? We have a beautiful solution that doesn't clutter up your website while being super powerful.
Detailed WordPress Website Design Reports
Will you monitor website performance?
 You will receive a detailed monthly report showing you all the optimizations, changes and traffic coming to your new WordPress website. Because we include our Website Backsups, Website Maintenance and Website Security services with every website we design your monthly report will include sections showing updates for these services as well.
Because we install Google Analytics and Google Search Console tracking codes on all of our websites you will see traffic data including keywords driving traffic and specific traffic sources as well.
Ready To Blow The Competition Out Of The Water?
I'm ready! How Do I get started?
We have created a really easy way for any business get a new, fast, optimized website. The process is just a few steps away.
Create an Account and Checkout
In 10-14 days receive your website mockup
Approve mockup or request a change
Approved mockup get's finalized.
Final website sent for approval.
Your website goes live on the internet!
That's it!  A streamlined way to get a brand new or redesigned website online in less than 30 days in most cases.
Explore WordPress Website Services
Local SEO
Our Local SEO service will put your website on steroids. We use Moz Pro tools to optimize your site and analyze your competitors.
Website Security
Secure your website BEFORE you get hacked, get malware or to prevent spammers from tanking your website.
Website Backups
Don't wait until it's too late, start securely backing up your website in the event of server or human error.
Website Maintenance
Website Maintenance is of paramount importance to keeping your website running at its peak performance and speed.
What our clients have said about our  WordPress Website Design Company.
No Contracts. Ever.
No matter what digital marketing services you choose from HD Marketing there is no contract to sign or agree to. We have never and never will force our valuable clients into a long term contract. We believe that our performance, support and services should stand on there own. For over a decade that has been the case.
Choose HD Marketing for all your digital marketing needs.